St. Patrick's Day: Lucky Delivery
Preparing stores for the holiday or How Americans choose goods by March 17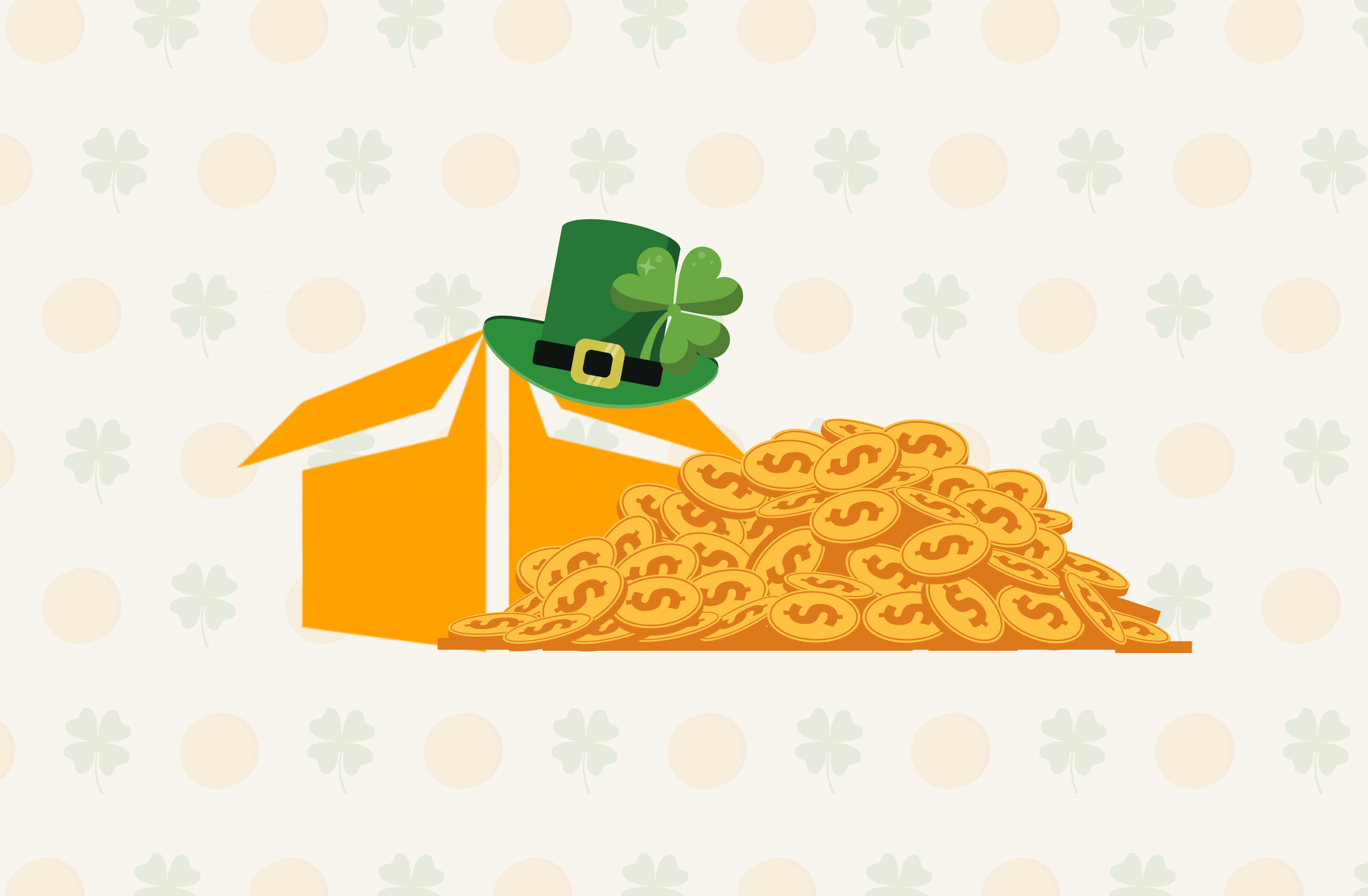 Almost every month, there is an event that almost everyone prepares for. And if in early spring we still continue to congratulate on the holiday of spring and women (March 8), in English-speaking countries first of all it is aboutSaint Patrick's day, which is celebrated on March 17. So it's time to prepare your stores for happy selling.
Holiday in numbers
According to the National Federation of Retailers of the United States, about $5.14 billion was spent on the celebration in 2021, averaging $40.77 per person. This year, this number is unlikely to be very different.
It is true that the number of people celebrating this day has been declining lately. While 55% of Americans joined the celebration in 2019, and 57% more in 2020, 49% of Americans celebrated the event last year. That's about the percentage of people who are preparing for the holiday this year.
What we will look for
The main symbols of the holiday are usually green, a leaf of clover, and everything related to luck and Ireland.
For Saint Patrick's Day, about 79% of women plan to wear something green - 84% of women and 77% of men. 72 % of people aged 18-37 wear green, 57 % wear green, and 41 % wear green. So whatever age you're looking for, you can be sure that more than half will be looking for green products by March 17th.
By the way, increasing numbers of consumers are refusing to hold high-profile pub celebrations, and restrictions on public gatherings due to the pandemic prevent them from attending traditional crowded parades. Every effort will be made to decorate the house. In this way, about 30% of the celebrations will decorate a house or office and 42% are planning a celebratory feast.
So, no wonder, the statistics are distributed about what Americans will buy for the holiday:
60% food and drinks for table
32% holiday decor
30% clothing and accessories
10% postcards
7% gifts to family and friends
Despite this, users of online platforms are already actively looking for and picking up orders for Saint Patrick's Day, which means it's time to prepare their listings and add a little four-leaf for luck.
Prepear our stores
To start with an initial audit, which is now most often searched for, for example, on Etsy for the holiday. Here even without additional resources, it is enough to start entering keywords to understand exactly what was in the search recently.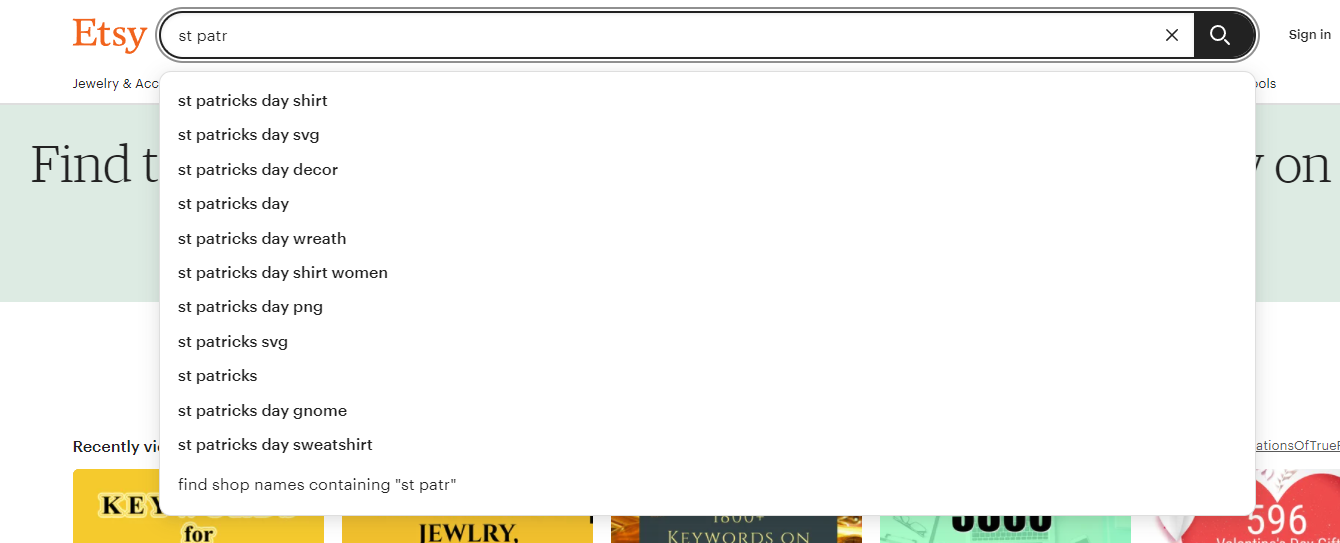 With this information, it will be easier to choose hashtags for your listings. With this data you can go to the category of goods, sorting by the indicator " top customers reviews". We find popular goods in the category of «popular» or "bestsellers" and pay attention to linked search queries on goods and related categories and search queries.

By collecting this data, you can improve your listings and increase the availability of your products in search of potential customers.
If you want to redesign Saint Patrick's Day products, use regional preferences, which may be useful, because of course, the most global celebrations will take place in cities with the largest Irish diaspora:
Boston (MA) - 20.4% of residents are of Irish origin
Middlesex County (MA) - 16.9%
Peabody (MA) - 15.8%
Albany (NY) - 15.6%
Syracuse (NY) - 15
Wooster (AI) - 14.8 per cent
Camden (NJ) - 14.8%
Philadelphia (PA) - 14.2%
London Island (NY) - 13.1%
Wilmington (DE-MD-NJ) - 13%
Besides, Saint Patrick's Day is always a day of parties, entertainment and jokes. So in addition to the popular "Lucky" "I'm Irish " and clover, you can use a little bit of bullying in your designs. For example, with this game of words:
•Keep calm and leprechaun .
•Take a pitcher. It'll last longer.
•Perfect for a shamrockin ' night
•The leprechauns made me do it.
•You're my lucky charm.
•Irish you a happy St. _ Patrick's day!
•Don't worry , beer happy .
•Irish today , hungover tomorrow .
•I kissed a leprechaun and I liked it.
•Cant think of a better way to March into Spring.
•World's tallest leprechaun.
•Cutest clover in the patch.
•Irish I had another beer.
•The paddy don't start till I walk in.
•I'm not Irish, but my coffee is.
•I lepre-can't even right now.
•It ain't over ' till it's clover.
•I'm going greenif you know what I mean.
•Bad puns on St.Patrick's Day don't just shame you , they Seamus all.
Delivery on time
It is also important to remember that this event is not as important as Christmas or even Valentine's Day, which means that all purchases are made on emotion, so you have to get the order very quickly. Even personalized goods are not ready to wait very long. Therefore, if your product is not electronic, it is important to consider all fast delivery options at once.
Of course, it is important for each listing to indicate possible delivery options with average delivery times and prices. And don't worry that the consumer will be afraid of express delivery. Very often, especially when there is an insufficiently weighted purchase, but which seems to be necessary at a specific date, the cost of delivery will not play a role, but the time will be
For example, using the express shipping service to the United States will cost on average:
| | | |
| --- | --- | --- |
| | Ukraine | Latvia |
| 0,5 кг | from $ 24.5 | from $ 27.5 |
| 1 кг | from$ 27.5 | from $ 27.8 |
| 2 кг | from $ 33.8 | from $ 33.1 |
| 5 кг | from $ 52.2 | from $ 48.3 |
| 10 кг | from $ 81 | from $ 73 |
The main thing to remember is that the price depends on the region of delivery and can vary. To be sure of the cost, it is worth checking how much it will cost to deliver in the calculator on the site SkladUSA: https://skladusa.com/ru/calculator/
Average delivery times to the United States from:
Ukraine 4 - 5 days
Latvia 4 - 5 days
It is also always possible to offer longer but cheaper delivery through consolidation. We remind you that consolidation is a prefabricated shipment for several orders that are delivered to customers through a warehouse in the United States.
If you choose this way, the cost of dispatch consists of two parts:
1. Cost of delivery to the warehouse in the USA - calculated according to the tariff FedEx - $6/ kg (for Latvia - $7/ kg) or DHL (only Ukraine) - $8/ kg exclusively according to the parameters of the dispatch. The package should not be in the final packaging, as it can be added to the US warehouse, which will save a lot of cost.
2. Cost of Delivery from Warehouse by Selected Carrier. If this is USA domestic delivery, it can be delivered by USPS or FedEx.
Average delivery time of consolidated shipment to US warehouse:
Ukraine - from 2 working days
Latvia - from 3 working days
Of course, in the thematic preparation for the holiday one should not forget the decoration of listings, banners, as well as advertising campaigns in social networks and websites. It is important to use all sales channels without stopping at one thing, because it is not known at what point the client will decide to purchase: through Etsy, eBay, Amazon, Facebook, Instagram, TikTok or when looking for something fresh in Google.
We wish successful sales and a pitcher of gold :) thanks to high sales and fast deliveries
If you have any questions, please contact our support service via:
personal system cabinet: https://system.skladusa.com/login
site - https:/skladusa.com/
telephone - 0800 217 096
telegramm - https://t. me/SkladUSA_bot
Was the article useful to you?
Блог
These articles may also


be helpful to you
Why is the article not useful?
Thanks for sharing your opinion. Please help us improve this material.
The article is not useful because:
Thank you!
Your opinion is very important to us.