Sending goods abroad
on marketplaces
Sell on Amazon, eBay, Etsy or other trading platforms. We will help to make it convenient! Accept payments, store the goods in our warehouse in the USA and use our delivery service.
Our System
The interface that
easy to use
Ability to manage all orders and shipments through a SkladUSA system in one click.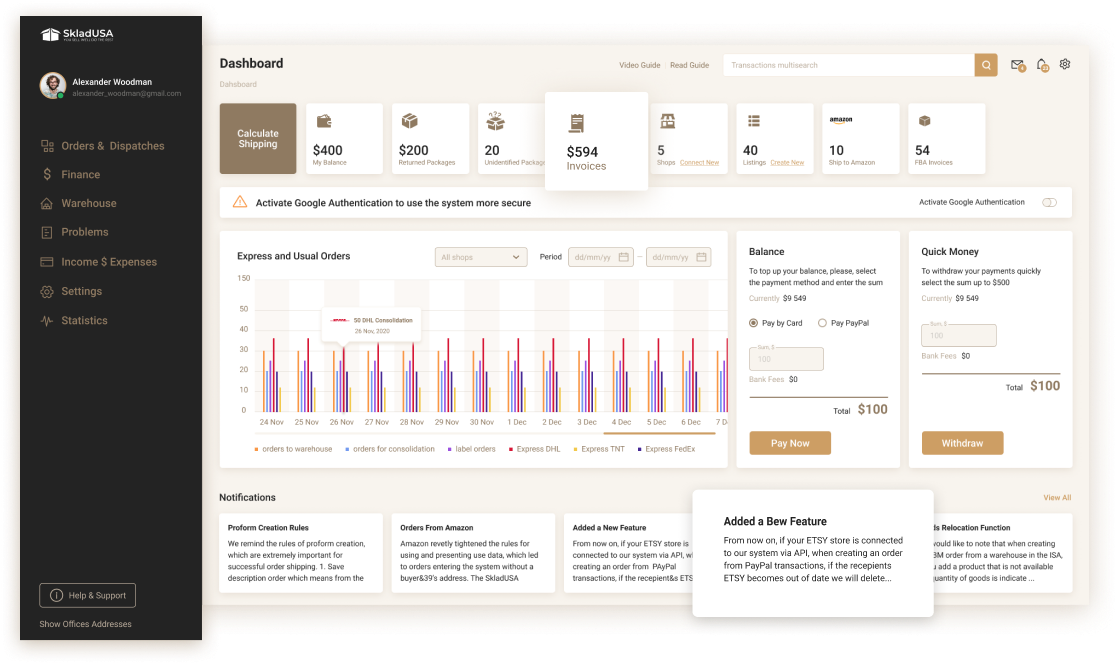 Consolidation
Save on shipping

We'll do the rest for you
Send small orders by consolidated shipments through SkladUSA and pay only for the size of the package, without overpaying for packaging.
Reviews
We value our customers,
and they
are grateful for our work
The best!
Kseniya (google.com)
Today the best logistics company to work with foreign markets
Dana (google.com)
A good company, they provide many useful services for sellers, relieving headaches. Separately, I want to thank the excellent girls in support, they always respond quickly and are ready to help in any situation. The leader of intermediaries by types of delivery, which can be found for every taste and for every need.
Vitaliy (google.com)
I've been with SKLADUSA since its inception. No complaints! Thanks for all:)
Anna
Very convenient service that allows you to control all sales and shipments of goods. I recommend!
Daria (google.com)
I have been working with this company for two years now. As for me, at the moment it is the undisputed leader among intermediaries who provide warehouse and consolidation services.
Anastasia
I have been a client of this company for more than a year and can recommend it for its excellent attitude and excellent service. There are no analogues of such functionality, which they offer, at the moment in Ukraine, and most likely in the world. The company aims to make people earn money first of all. They were able to offer a successful solution to delivery problems in times of crisis, offered minimal service fees and became the best in all these areas.
Natalia
For a beginner, getting into the hands of professionals is the best that can happen !!! The speed and quality of SkladUSA are top notch. Thank you for the highest level of service !!!!
Oksana
Fast and reliable. My best recommendation!!!
Vladimir
I've been working with them for almost a year now, I'm happy with everything, if there are any difficulties, everything is perfectly solved for technical reasons or directly with the composition. Always in touch, which is very important! I have not tried it in Europe, but for shipments to the USA or Canada, I recommend!
Anna
I have been using SkladUSA delivery services for half a year now and I also use it as an intermediary, so far everything is fine, I am very satisfied.
Olga
Very cool company! I send parcels with their help - they deliver very quickly.
Andrew
I have been using it for a year in the direction of the USA. Clearly and quickly, only positive impressions. Their service is also excellent.
Lisa
For more than a year I have been sending all parcels to the USA only through SklAdUSA and I am very satisfied. A big plus is always to contact the staff. There is a chat, you can call a warehouse in the USA, they always answer and help. They can redirect the parcel to another address during the delivery process, if necessary, they can leave it in the warehouse or return (and it will take not a year, as with other delivery services)
Anna
The best reseller company on the market, I have been working with resellers since 2015, there is someone to compare with, SkladUSA turned out to be the best and the most customer-oriented!
Olga
I have been working with them for over a year, I am very satisfied. Very simple and user-friendly platform, fast order processing.
Maria
Great service! I use it very actively.
Elena
I love SkladUSA! They work very quickly, and if something is not clear, then there is a support chat in Telegram and plus technical support on the site and training videos, where everything is shown on the fingers. And most importantly, work according to this scheme minimizes any pandemic risks, when parcels sent by mail get stuck somewhere in transit for months.
Alexandra
I have been working with SkladUSA for a long time! Thank you for facilitating many processes!
Regina
Charity
Let's help the army

ourselves
Today we can do more not only for the Ukrainian army, but also for the whole country. We invite all representatives of the Ukrainian community of handmade producers to join the SkladUSA initiative to support the armed forces of Ukraine
Every hryvnia you donate will be used to meet the primary needs of Ukrainian soldiers on the front lines: medical equipment, quadcopters and SUVs, etc.
Support the Armed Forces
Automation
API-integration
of your store

into the SkladUSA system
The most complete functionality, thanks to which orders are displayed in the personal account, and track numbers are automatically added to the order in the store on the marketplace.

storage
Own warehouse in USA

with additional services
A fulfillment warehouse in the United States that offers FBM, FBA and return processing services.
Favorable location of the warehouse in Minnesota allows you to save on both cost and delivery time, which is an important competitive advantage for sellers at overseas markets.
grow your business
Get more
benefits
Register
Ready order in less than an hour

Processing and sending FBM-orders in one day (subject to creation in the system before 12:00).

Google Authenticator

Additional security of your personal data with Google Authenticator.

Integration of Google Analytics into personal accounts

All analytics on your stores in the personal account of the SkladUSA system. Managing sales becomes even easier!
Teaching
Training courses on selling goods on

Etsy, Ebay, Amazon and business consulting
View lectures