E-Commerce partner
Fulfilment with excellence
SkladUSA is a global fulfilment solution founded on the collective insights of e-commerce experts, smart tech, domestic & cross-border shipping services and a strategic presence in the most advanced online markets across North America and Europe:
Minneapolis (USA)
Cambridge (UK)
Lodz (Poland)
Riga (Latvia)
Lviv (Ukraine)
We're not just another fulfilment warehouse. With our commitment to excellence and global reach, we are poised to deliver your products to your buyers far and wide, ensuring a seamless experience that exceeds expectations with every engagement. Entrust us with your products, and we will do the rest.
Our services
Our journey began in 2018 pioneering consolidated shipments (economy shipments) for Etsy retailers from Ukraine to US buyers but we've since expanded and offer the following services:
FBM
FBA
Warehouse management system
Returns management
Express deliveries in 1-2 days on DDP or DDU terms
Customs clearance and compliance services including IOSS shipments
Economy shipments to the USA from the UK, Poland and Latvia (2-6 days*)
Economy shipments to the USA from Ukraine (5-10 days*)
API integration with most marketplaces and platforms
Custom solutions tailored to your unique requirements
OUR SYSTEM
Warehouse management system
Discover the power of our innovative WMS. Free API integration with the majority of e-commerce platforms (Etsy, eBay, Opencart, Shopify, WooCommerce), our system ensures that all orders are fulfilled automatically and your inventory levels are updated in real-time.
Say goodbye to the stress of manual data entry and stay ahead of the game with up-to-date information on what products are in stock and what needs to be reordered. Experience the ease and convenience of our WMS and streamline your warehouse management like never before.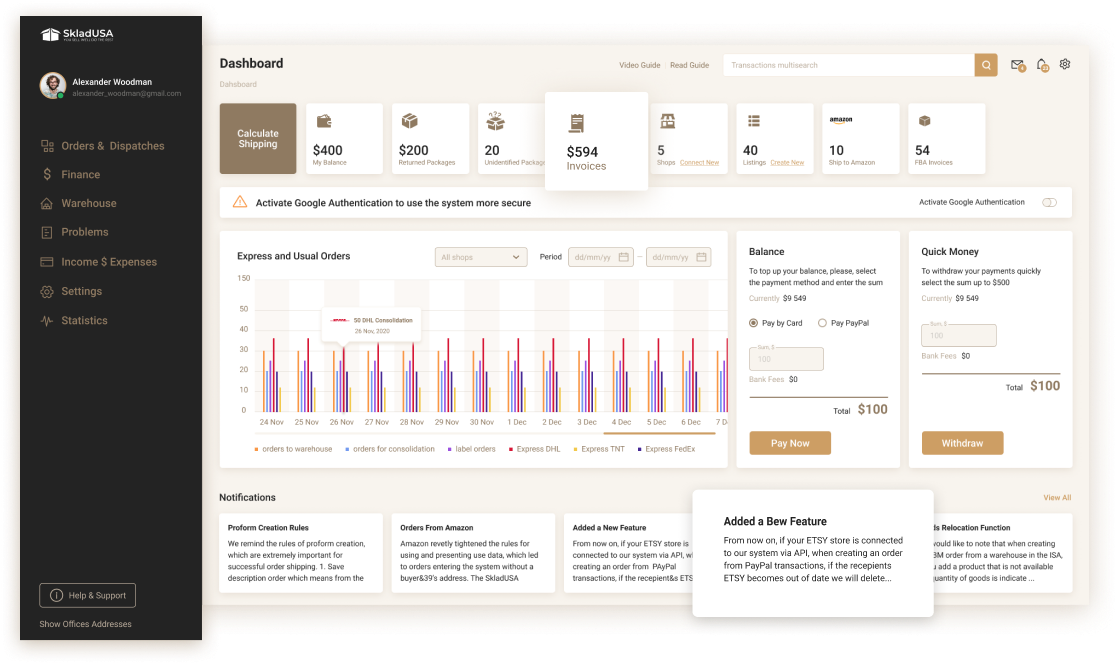 The best!
Kseniya (google.com)
Today the best logistics company to work with foreign markets
Dana (google.com)
A good company, they provide many useful services for sellers, relieving headaches. Separately, I want to thank the excellent girls in support, they always respond quickly and are ready to help in any situation. The leader of intermediaries by types of delivery, which can be found for every taste and for every need.
Vitaliy (google.com)
I've been with SKLADUSA since its inception. No complaints! Thanks for all:)
Anna
Very convenient service that allows you to control all sales and shipments of goods. I recommend!
Daria (google.com)
I have been working with this company for two years now. As for me, at the moment it is the undisputed leader among intermediaries who provide warehouse and consolidation services.
Anastasia
I have been a client of this company for more than a year and can recommend it for its excellent attitude and excellent service. There are no analogues of such functionality, which they offer, at the moment in Ukraine, and most likely in the world. The company aims to make people earn money first of all. They were able to offer a successful solution to delivery problems in times of crisis, offered minimal service fees and became the best in all these areas.
Natalia
For a beginner, getting into the hands of professionals is the best that can happen !!! The speed and quality of SkladUSA are top notch. Thank you for the highest level of service !!!!
Oksana
Fast and reliable. My best recommendation!!!
Vladimir
I've been working with them for almost a year now, I'm happy with everything, if there are any difficulties, everything is perfectly solved for technical reasons or directly with the composition. Always in touch, which is very important! I have not tried it in Europe, but for shipments to the USA or Canada, I recommend!
Anna
I have been using SkladUSA delivery services for half a year now and I also use it as an intermediary, so far everything is fine, I am very satisfied.
Olga
Very cool company! I send parcels with their help - they deliver very quickly.
Andrew
I have been using it for a year in the direction of the USA. Clearly and quickly, only positive impressions. Their service is also excellent.
Lisa
For more than a year I have been sending all parcels to the USA only through SklAdUSA and I am very satisfied. A big plus is always to contact the staff. There is a chat, you can call a warehouse in the USA, they always answer and help. They can redirect the parcel to another address during the delivery process, if necessary, they can leave it in the warehouse or return (and it will take not a year, as with other delivery services)
Anna
The best reseller company on the market, I have been working with resellers since 2015, there is someone to compare with, SkladUSA turned out to be the best and the most customer-oriented!
Olga
I have been working with them for over a year, I am very satisfied. Very simple and user-friendly platform, fast order processing.
Maria
Great service! I use it very actively.
Elena
I love SkladUSA! They work very quickly, and if something is not clear, then there is a support chat in Telegram and plus technical support on the site and training videos, where everything is shown on the fingers. And most importantly, work according to this scheme minimizes any pandemic risks, when parcels sent by mail get stuck somewhere in transit for months.
Alexandra
I have been working with SkladUSA for a long time! Thank you for facilitating many processes!
Regina
Charity
Let us extend a helping hand
to the Ukrainian Army
Today is the time we can make a difference by helping the soldiers defending Ukraine. We call on all members of the Ukrainian community of handmade producers to unite with the SkladUSA initiative to aid the Ukrainian Armed Forces. Let us show our support to those who protect Ukraine every day.
Every generous dollar you contribute will be used to meet their primary needs, including medical equipment, drones, vehicles and much more. Join us in providing our soldiers with the resources they require to continue their selfless service.
Support the Armed Forces